The Radical Challenge is a 12 Week "Action Sports Bible Study"

R
adical Riders is a multifaceted action sports ministry whose purpose is to bring the gospel of Jesus Christ to everyone through the avenue of action sports, and to provide discipleship training for born-again Christians to assist them in living a balanced christian life. The Radical Challenge is a 12 Week Action Sports Bible Study that assists every believer in how to live that balanced christian life. 
This the FIRST Bible Study packed with ONLY Action Sports analogies.
What makes the Radical Challenge unique is that it teaches believers "How To" be balanced.  All the weeks are designed with step by step instructions to teach the believer "How to" pray, study the Bible, how to witness, and how to battle Satan. It also helps the believer identify spiritual gifts so that they can incorporate those gifts into their daily life in a manner that will glorify God and point others to Him. The Radical Challenge uses numerous scripture passages as the foundation for each weekly topic. Those scriptures are listed and must be looked up by each believer going through the challenge.  It is our hope to equip fellow brothers and sisters in Christ to know what they believe and how to support that belief in the bible.
Another unique feature is that it not only teaches the believer how to be a radical christian, but gives them practical steps to challenge the believer to take the gospel to the extreme. Each week also includes a scripture verse to memorize which relates to the topic and a radical challenge which helps believers put what they have learned into practice.  For example in week eleven of Evangelism there are five witnessing scenarios, the believer must complete two out of the five scenarios. The weekly challenges are designed to help believers take their faith and put it into action. This booklet is great for individual study or for a small group discussions. 
Order NOW…THE RADICAL CHALLENGE – The "How To" Manual for Living the Radical Christian Life – $19.95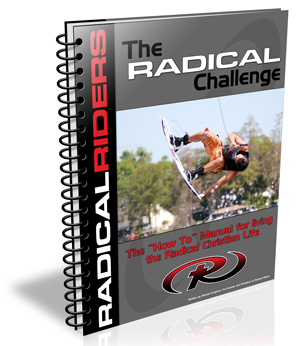 The Radical Challenge is a 12 Week Bible Study that assists every believer in how to live a balanced christian life. Each week there is a new topic to cover which includes:
Child of God
Power of God
Prayer
Devotions
Purity
Spirit-Filled Life
Fruit of the Spirit
Spiritual Gifts
Armor of God
Faith
Evangelism
Spiritual Warfare
This booklet is great for individual study or for a small group discussion. Instructors Manual available upon request. (booklet 91 pages)